If you think of the way today's businesses treat information, you can recognize that this is the area where you can actually add value and deliver the best-of-breed services to your clients. Your product or a service is expected to make the lives of your customers easier, so it is imperative for your company to meet the highest standards of customer service. Having an effective web based contact management system is one of the most powerful tools that can actually help you achieve that goal. Companies of any scale can appreciate the full extent of abilities that a web based contact management provides for customer engagement. In a hypercompetitive environment where customers get more demanding than ever, customer satisfaction has become the most prominent and defining feature of a successful business. The fact that customer service is now the number one reason for people to choose a company's products and service over the competitors' has helped companies realize that they cannot afford not to follow a customer-centric business development. In order to keep their clientele pleased, businesses need to put their customers at the heart of everything that they do. Various businesses admit that having a better understanding of their prospects and existing clients is the key to that goal.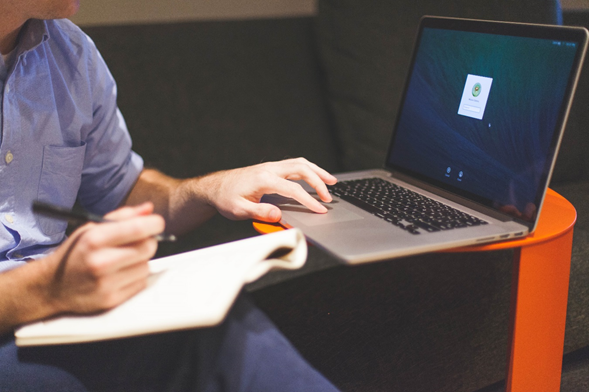 Deploying a contact management system like bpm'online offers many advantages. The ability of having a comprehensive overview of every single contact gives your business the opportunity to increase the revenue and the levels of customer retention, just to name a few. Take a closer look at this list of the top 5 benefits of the best web based contact management:
All customer data is concentrated in one place
Web based contact management systems allow your company to avoid the most typical pitfalls of storing customer data. Not to mention that you will be able to forget about mixed-up spreadsheets, lost addresses or contacts of your clients. Suitable contact management solutions gives the ability to comfortably navigate in an infinite amount of customer-related data and cover massive amounts of clients effortlessly. Empowered with top-notch tools, you will be able to get a comprehensive view of all customer related information and keep it safe in a single data storage.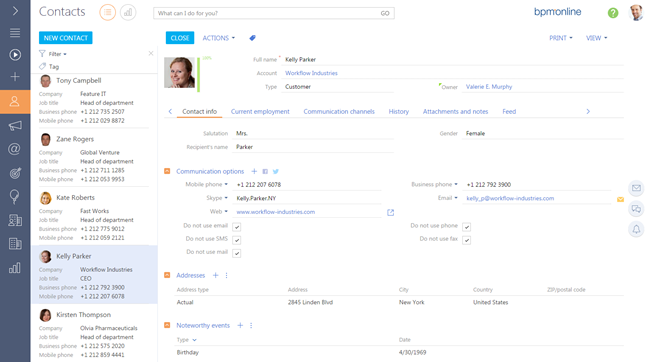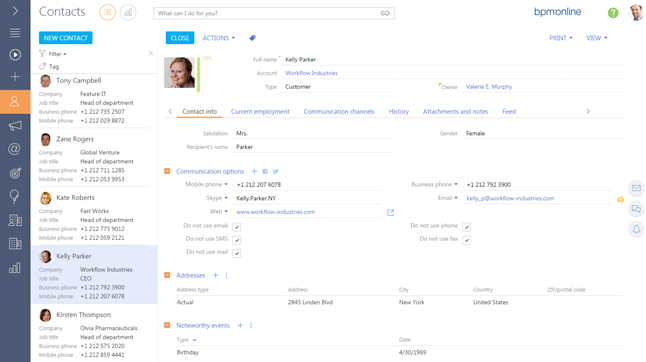 Keep focus on your customer
Being an integral part of any efficient CRM software, web based contact management is able to put the customers at the central point of your company in order to meet their requirements, fulfill their needs, and hence increase the revenue of the organization. Another benefit of such automation solution is accurate analytics, which is the key to understanding your clients. Moreover, precise analytics can recognize clients who are dissatisfied and examine the nature of their complaints. When these individuals reach out, your helpdesk agents are prepared to address the issue and resolve it immediately. Contact management software uses customer data and analytical metrics to create a 360-degree profile of your existing clients and enable the customer focus. Monitor your contacts and establish relationships with existing client base in accordance with their communication patterns and previous interactions.
Your customers are satisfied
In order to replace the outdated multi-channel approaches with a truly omnichannel experience, advanced contact management solutions provide businesses with the necessary tools to unify customer data in one place, regardless of the communication touchpoint and customer journey stage. Setting up an omnichannel approach to customer service is critical when building a customer-oriented company. Sophisticated communication tools that are tailored specifically for your business will help your customer center team respond to any question, complaint or inquiry in a prompt and productive manner. Respectively, your clients will get a better experience with your brand, which increases customer retention and loyalty.
Web based contact management to ensure revenue growth
At the end of the day, web based contact management systems is a valuable tool that enables various organizations to save time and money by giving employees better instructions, which helps them confront customers more efficiently. The automation of business processes leads to customer retention and acquisition. Respectively, you will be able to increase customer satisfaction levels, which reduces customer attrition and positively affects overall profitability.
Implementing a web based contact software enables your business to gain the competitive advantage of identifying, attracting and retaining the most valuable clients. You will be able to fundamentally transform the way you interact with your clientele. Web based contact software provides your employees with the thorough and systematic information they require. The appropriate automation solution creates a comprehensive overview of each client and distributes this valuable data among the customer-facing departments on demand. You can also learn more about contact management here – Key Differences between CRM and Web Based Contact Management. Contact management system plays a pivotal role in the way modern companies run their businesses. Companies need to manage high volumes of customers who demand excellent service through various communication channels and the need to create a personalized approach towards every individual client has never been more transparent. Not only does the implementation of an efficient contact management solution allow you to stay at the forefront of technological progress, but also it makes your business stay so ahead of the curve that your competitors will not even see this curve. If you are not going to deploy an efficient web based contact management software, other firms will.
See also