"5G is the network on top of which a 'real' virtual reality can and will be built." – Christian Lundsgaard-Hansen, Founder of Sparkr
It all started with a 2G, 3G, 4G and now a 5G breakthrough, with a 6G already peeping over!!! Are these just numbers? No, they mean a revolution in the world of technology, something that we have been leveraging to its optimum every day, every minute.
5G is expected to cover almost 40% of the world by 2024
5G wireless network revenue will amount to $4.2 billion in 2020
Global spending on 5G infrastructure is projected at $2.3 billion in 2021
5G will enable data speed to increase to 10 Gbps
Deploying fiber optics for 5G will cost around $130 billion
The above statistics speak for themselves. Isn't it?
In the world of wireless technologies, 5G is the fifth generation that is creating waves globally. It is eyed at being the latest generation to offer a newer and enhanced level of performance and efficiency, that will connect newer industries and offer superior user experience. 5G tops out at 10 gigabits per second (Gbps). It is 10 to x100 faster than what you can avail of with 4G. Of course, as always, this innovative tech has its own set of challenges bundled along with, but not without its solutions coming soon.
As per Wikipedia,
5G began wide deployment in 2019
4 million Koreans possess 5G phones in Oct 2019
China has deployed over 1,00,000+ base stations
150 million 5G subscribers are expected in China by 2020
9 organizations are shipping 5G phones in Dec 2019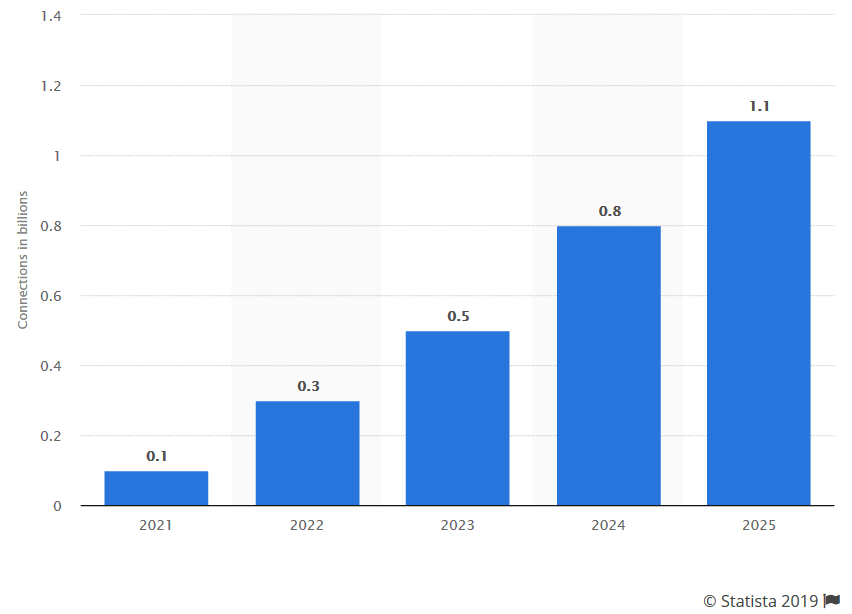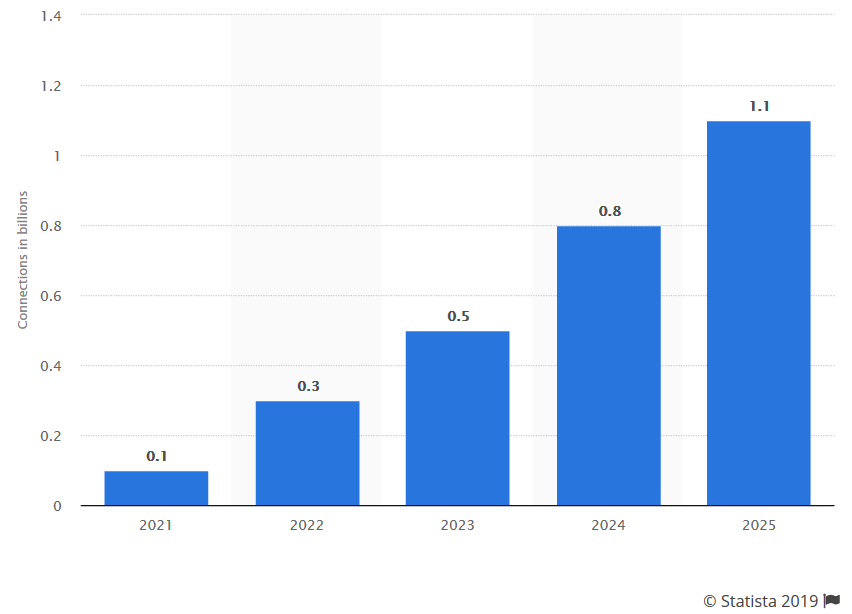 The governing body that defines 5G is 3GPP (Third Generation Partnership Project). 3GPP started the release of 5G in year 2019, identifying it as the new global standard. The initial 5G NR (New Radio) rollout focusses on offering augmented mobile broadband experience, lower latency and swifter speed. It will take a while till 5G becomes available to all.
Let us go through the nuances of how 5G started, its key features, characteristics, advantages and all about it.
The Journey from 1G to 5G – An Interesting One
Prior to 5G, there was a series of its earlier versions – 1G, 2G, 3G and 4G. No doubt, each of them had unique features to showcase with additional ones that carved a niche for themselves. And, that way, evolved the latest 5G version.
Year 1981 came 1G – Introduction to analog voice, zero data transfer
Year 1991 came 2G – Addition of digital voice e.g. CDMA, SMS, voice mail, up to 40 Kbps data transfer
Year 1998 came 3G – Addition of mobile data e.g. CDMA2000, GPS location tracking, image sharing, up to 21 Mbps data transfer
Year 2008 came 4G – Addition of mobile internet with higher broadband, up to 1 Gbps data transfer
Year 2018 came 5G – Get, set, go to a new wireless world, lot to offer and enjoy!
Key Features of 5G
Better coverage area and high-end data rate
Easily manageable with previous generations
Lower battery utilization, high-end security
Omnipresent connectivity, faster response time, very high capacity
Virtually zero latency, 100 times more devices, wide range of applications
Accessibility to various data transfer rate
High resolution and bi-directional large bandwidth shaping
Better energy effectiveness and spectral efficacy
Offers a consistent and unbroken connectivity across the globe
Serve communication needs of billions of IoT devices
Moves beyond mobile internet to huge IoT
Redefines a range of industries with connected services
Use Cases of 5G in Enterprise Level Business
5G is here and so are the use cases, as listed below, that shall leverage the finest potential of 5G in their organizations:
IoT communications
Fixed wireless access
Controls and automation
Edge analytics
Location tracking
Smart vehicles and transport
Critical services and infra control
Enhanced mobile broadband
Human machine interaction
Huge machine-type communication
Low latency communication
Vehicle telematics
Mobile and collaborative robots
Video surveillance
Trends for 5G in 2020
There is much happening right now and much more is being planned on the 5G front. The introduction to 5G has already begun and the year to come shall witness the actual potential of the same.
We can witness the following trends for 5G, in the year 2020:
Fixed wireless and augmented mobile broadband
Highly trustworthy low latency communication
Massive machine-type communication
Remote industrial machine operations
Virtual sports attendance
Connected cars and immersive drone experience
Advancements in smart cities, smart vehicles, smart manufacturing
Sophisticated usage with self-driving cars, automated surgeries
Hurdles to Face
There is no rose without thorns – so says our old age proverb and still holds true. 5G is here with a bang but along with a few challenges that it shall surely overcome soon. But those obstacles cannot be neglected and need an eye of supervision while you enjoy the benefits of 5G.
Since 5G is a new technology and under process, the feasibility of its success and fulfillment of its promises are not yet completely proven. The world is yet to see the benefits it has confidently showcased. The faster speed and lower latency that it promises may face some hurdles, with respect to the unavailability of equivalent hardware/infrastructure.
Device compatibility may turn out to be an issue as many of the older devices may not work seamlessly on the 5G connectivity.
The cost could be another issue since 5G equipment are costly and need skilled expertise for installation. Security and privacy issues could pose to be a problem, if not handled properly right from the beginning.
Cybersecurity Needs with 5G
Because of the huge bandwidth, high speed, low latency, 5G brings along security concerns that need immediate focus. All organizations going in for 5G will need to adapt to those changes that are essential to implement 5G seamlessly, securely and swiftly in their organizations.
Here are some of the cybersecurity threats that are a matter of concern:
Widespread attack area because of larger connectivity
More devices accessing the network, hence, under chances of attack
Extended security policies to a variety of IoT devices getting involved
Verifying the wide range of devices spread all over
Organizations will need to take up virtualization, to make the network supple and responsive. Higher network access controls, ensuring endpoint security controls is a must since there are many 5G devices connected to a network.
A zero-trust security model also needs to be established, since it would frequently verify the availability of the user – be it a human or a robot. Security is shared evenly between the network operators and enterprises via a shared security model.
AI and ML will play an extended role in ensuring a safe and secure 5G experience, with threat detection and intelligence.
Because of the wide spread of a 5G network, there must be a certain level of automated security controls that can manage and monitor the environment, all at a time.
Witnessing the Spread and Popularity of 5G, The Onset of 6G, As Year 2020 Dawns
It may still be too soon to visualize the true potential of 5G, but we certainly saw a brief preview of it in 2019 and shall see the entirety of it in year 2020. Technology is surely going to witness an upsurge in speed, performance, reach and effectiveness. 5G is here to impress and it surely is doing so!
Last but not the least, 6G (sixth generation wireless), as a successor to the 5G technology, is also gearing up to mark its entry soon. 6G will focus more on distributed computing, devices and circuit technology, wireless connectivity and services and applications.
Still time to go, but if 5G is such a great delight, how delightful will 6G be, with better features, higher speed, enhanced performance, higher frequencies, more capacity and lower latency!