Businesses in all sectors need access to cash on a regular basis in order to keep up the day-to-day running of the company and to provide funds to grow and develop. But businesses in the construction sector have a particular need for maintaining cashflow throughout the month – and it is particularly difficult for a construction business to achieve this aim. This is because cashflow problems are common in construction. Subcontractors need cash to pay for wages, materials, and supplies in order to start work on a project, but they will often not receive any payment from the contractor until much further down the line. Construction finance is one way of alleviating this problem and helping subcontractors in the construction industry to grow.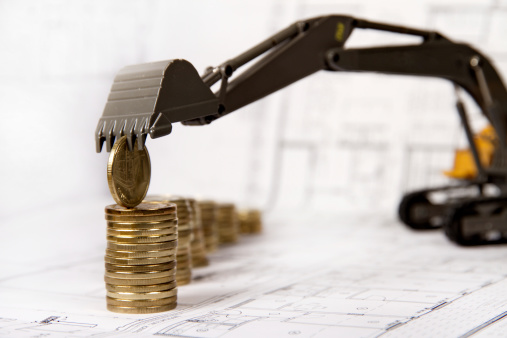 What is Construction Finance?
Construction finance packages are arranged for profitable construction companies with a turnover over a certain amount (depending on the lender). The facility provides money to the construction business when they raise an Application for Payment. The money that is tied up in this application is advanced by the lender so that the cash can be used for the project, or on other aspects of the business. Once the main contractor pays the bill, the sub-contractor gets the full amount, minus the fee that the lender has specified under the terms of the agreement. Here are a few of the benefits of construction finance:
Receive Money at the Point of Application for Payment
It can be difficult to stretch cash until the main contractor actually settles the payment. Many subcontractors struggle, particularly if the contractor is a late payer. If the business has not built up many reserves, it can be difficult to hold on until payment is made, let alone grow the business. When you use a construction finance package from a supplier like www.ultimatefinance.co.uk you don't need to overstretch yourself and hope for the best. The money is available right there and then.
Builds Regular Cashflow
Once you have the security that you can take on projects without going under, you can look for future work and build your business. The regular cashflow allows you to pay wages, to buy supplies, and to settle debts while you are waiting for payment.
Confidential Agreements
Under the terms of construction finance agreements, you can specify total confidentiality. This means that the main contractor will not know about the agreement, and your business does not stand out for using a finance package.
Negotiate Better Terms
When you know that you have cash coming in to cover bills and expenses you can set up better terms with suppliers – you don't have to settle for a long payment term that actually ends up much more expensive. You have a greater amount of freedom to make better business decisions.