Time management is a difficult but must-have skill for a successful person. It's impossible to keep all the ideas in your head, correctly distribute goals, analyze your schedule, and make adjustments to it if necessary. 
Indeed, we need careful planning in every area of ​​our lives. Imagine you are going on a road trip to Mexico. You have to not only buy plane tickets, book a hotel, but also rent a car Culiacan for easy getting around the area. And even if you have excellent car rental and hotel booking apps for this, then you may simply forget to use them. 
Luckily, scheduling and time management apps are here to help you. Whether it's preparing for a trip or just business planning, they make tasks and deadlines clear, don't allow you to forget important things, carry out analytical work, and give tips. So, we offer several excellent scheduling apps for your every need. Install any of them on your smartphone and you will learn how to use your time more efficiently…
TickTick 
It's the perfect GTD (Getting Things Done) planning application. The advantage of this app is that you can completely customize it with a variety of settings and options. The app has a built-in calendar that makes it possible to plan any tasks in advance. So, you won't forget about a doctor's appointment, an official meeting, or any other important event. 
You can add comments, checklists, files, tags, and labels to any task, as well as assign priority. It's very convenient to sort tasks by project and context. You can even link a task to a specific address, and when you walk past the store, TickTick will remind you to buy groceries for dinner. 
If you don't have time to type at all, you can just say the tasks with your voice. Also, TickTick allows you to share your lists with others. This is convenient if you are planning a family trip or running a small business project.
MyLifeOrganized 
This is a real super app among other task planners! It has the widest range of features, including a simple list, a hierarchy of tasks and subtasks, grouping, assigning context, filtering, calendar view, repetitive tasks, setting reminders, adding notes, tracking project progress, etc. 
In short, with MyLifeOrganized you get the most complete arsenal for planning at different levels – from a regular daily to-do list to a large-scale tree structure of tasks and goals. It will take time to understand all the features of the program, but it's definitely worth it.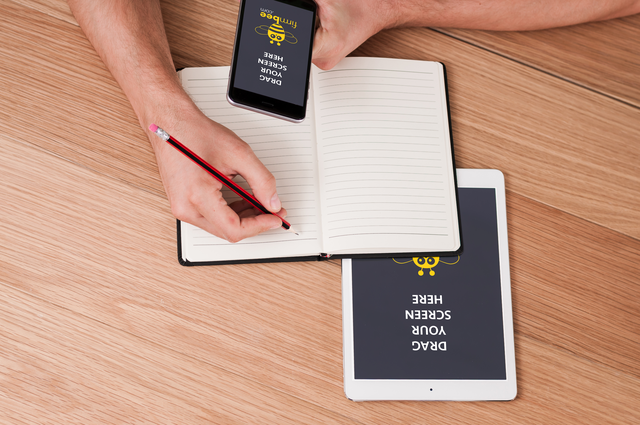 Habitty 
If you don't like applications with a bunch of unnecessary features, then you will definitely like Habitty. It has nothing superfluous – only your habits and clear progress. This mobile habit tracker will help you get rid of harmful addictions, and not to forget about important actions for health, beauty, and development. 
In the app, you can set up reminders so that you don't miss a workout and don't forget to drink a glass of water. The application provides detailed statistics for each habit and even the ability to see its strength as a percentage. For example, the less often you skip morning exercises, the stronger this habit becomes.
RescueTime 
RescueTime tells you honestly where you are spending your time. This service keeps track of how many hours you use your phone, and gives all the overall statistics. You can see on which sites and in which applications you spend a particularly long time. At the same time, RescueTime will show you for what purpose you most often use your device: work, communication, shopping, entertainment, education, news, or something else. 
This will give you a complete picture of how you are spending your time and how many hours you spend on bad habits. As a result, you can take control of the time and adjust the alarming statistics.
Sectograph 
Agree, it would be convenient to immediately see your tasks when you look at your watch. The Sectograph service has implemented this feature at its best. The app transfers your plans from Google Calendar to an analog watch face. So, instead of a linear list, your schedule turns into a visual pie chart. 
This format is ideal for those who best perceive information visually. You'll see when your working time begins and ends, and how long a meeting, training, or other event takes. All this allows you to better feel the time and use it more efficiently.
MindMeister 
It's best to plan long-term projects and activities in the form of mind maps so that you can see the whole picture and not miss anything. MindMeister is perfect for this task. it can easily and quickly plan even a very complex and multi-part project. 
Large mind maps with many branches are more convenient to compose from a computer or iPad, so the synchronization feature available in the app will be very useful. Plus, you can always share the mind map with colleagues or friends to work on it together.
Microsoft OneNote 
The app looks like a paper organizer – you create a notebook, then sections, and finally pages. The online planner allows you not only to print texts but also to draw. Other features include the insertion of images, videos, tables, as well as translation and spell checking. 
Also, there's the ability to record sound and video. For your convenience, the contents of the section can be marked with bright tags. By the way, such a to-do organizer is suitable for teamwork, as it has a shared mode. However, you can password protect individual sections and margin notes if necessary.